" Success Is Simple. Do What's Right, The Right Way, At The Right Time. "
– Arnold H. Glasow
" An Expert Knows All The Answers–If You Ask The Right Questions. "
– Levi Strauss
At Accent Truss, we strive to create the best experience for our clients as possible. You'll find information here that we hope you find helpful regarding our process, timing, design, assembly and installation, wood species and surface finishes.  Every project has its own unique characteristics and requirements but each one we craft will have fantastic visual impact, small tolerances and delivery in a timely manner. Exceeding our clients' expectations is always the top priority; repeat business is our barometer to measure success.
Timing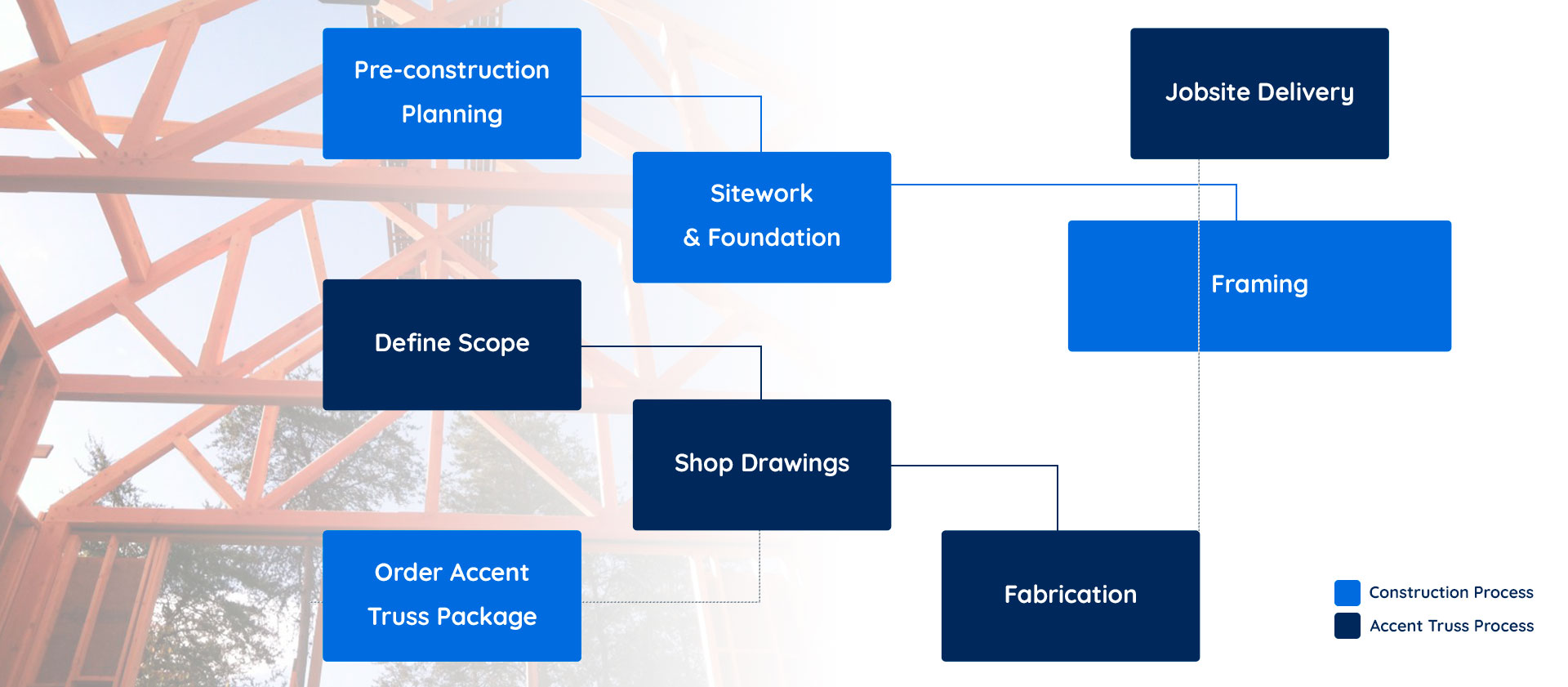 The best way to have timber trusses and components incorporated into a project is to work with us early as a partner in the process. This allows us to provide the quality service and craftsmanship we are known for and take pride in. The image below shows an ideal scenario for blending our process with yours.
Shop Drawings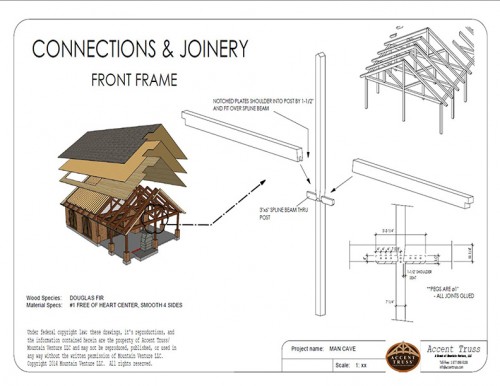 The shop drawings are a crucial part of what we do. We begin each project with the creation of a detailed set of shop drawings. It is the bridge between design and execution and we take great care with the process. No cuts happen to the timber without full review of the shop drawings and final sign off from the customer.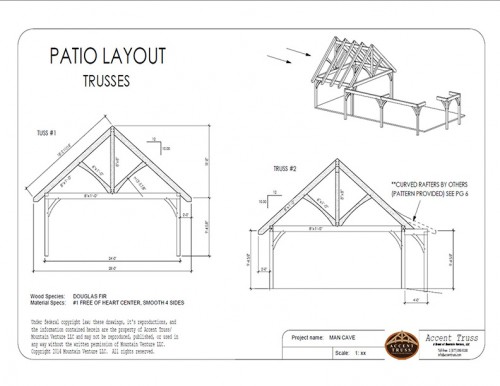 Assembly & Installation
We pre-assemble each piece in the shop during the crafting and fabrication process to ensure a good fit on the jobsite. While some components will arrive to your jobsite assembled, many are too large and will be knocked down and bundled for shipping.
We do not do the jobsite assembly and/or installation, but we do make it as simple as possible for your onsite crews to perform this work by providing assembly drawings that clearly show how each piece goes back together and in what order to install.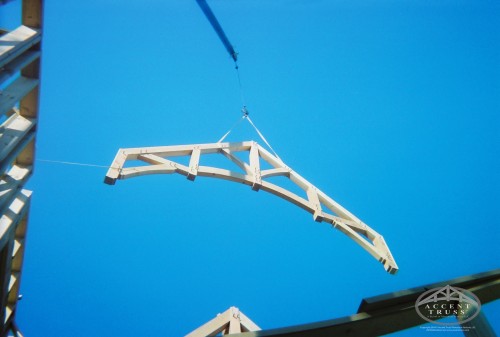 Species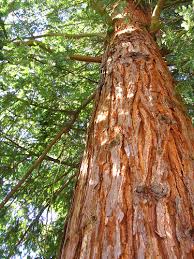 Western Red Cedar (Scientific name: Thuja plicata)
Excellent rot resistance for exterior use
Natural deep red color
Good grain patterns (similar to Douglas Fir)
Soft wood good for joinery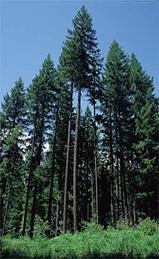 Douglas Fir (Scientific name: Pseudotsuga)
Great structural properties for heavy loading
Beautiful rich grain that will accept stain finishes very well
Stability for minimal movement
Great for cutting curved trusses with complex joinery
Textures

The surface of the material has a big impact on the overall visual appearance and style of the project. Smooth is the most "refined" look, and hand hewn or rough sawn tend to be more rustic. Many projects have a mixture of textures. Smooth for interior timbers and rough sawn for exterior is the most common combination. The advantage of smooth timber for the interior is keeping it clean. It's much easier to brush dust and cobwebs off a smooth timber. Exterior timber will show weather over time, but rough sawn or hand hewn has a more rustic look initially and weathering will not show nearly as much in years to come.
Finishes
Crafting and working with clients on the design and look of their heavy timber projects is our specialty. Final finishing of the projects, however, doesn't happen here with us. It is typically done on-site by a painter. We are often asked what we think is a good product or color to use, but the truth is there isn't one answer to that question. Different spaces and people will want and dictate different things, and personal preference rules here. Some prefer a completely natural look allowing the timber to weather naturally (exterior timber grey over time and interior will deepen or grey depending on conditions). Other customers have used paint or a solid-body stain; this is a less common choice but can look great in the right setting. The most common and popular finishes would be oil and/or stain. Oiling will bring out and enhance the natural tones of the wood and it highlights the graining patterns really well. To maintain the look of oiling it will need to be re-applied fairly regularly — more often than staining. Oils can have tint or no tint in them. We think linseed oil is a great option but there are others out there that also work well. Staining will require less upkeep but will change the natural tones of the wood the most, although it does give a very dramatic and rich look to a project.
Lead Time & Terms
Every project is unique and scope and size will affect lead time as will what other projects we are crafting at the time you place your order. Generally speaking, though, most projects carry an 8-10 week lead time from when we receive your contract and deposit payment. Some smaller projects can be done in 6-8 weeks and larger ones can take as long as 12-14 weeks.
Purchase agreements are written for each project that describe the scope of work and contract price. The total contract price is generally split into three equal payments. The first payment is a deposit due at the time of signing the purchase agreement. This gets your project into the schedule and our resources dedicated to producing shop drawings. The second payment coincides with the submission and approval specific to your project will be ordered from the sawmill and delivered to our shop for fabrication. As crafting and fabrication nears completion the final invoice will be sent out and once payment is received the shipping arrangements can be made. Due to the custom nature of what we craft (no two packages are alike) all payments are made prior to shipment to the site.
References
Providing our clients with exceptional service is what we strive to do. We have many terrific clients and we're happy to have you talk to them about their experiences working with us! Please feel free to contact us at info@l6-accenttruss.colophonhosting.com or call 1-877-898-5108 and request references.