Accent Truss is a highly specialized timber frame company. Our offices, design studio and fabrication facility are located on Johns Island in the Lowcountry of South Carolina. With our extensive knowledge and know how, no job is too big or too small.  Whether you're looking for a full timber frame barn, hybrid timber frame home, timber trusses, outdoor pavilion, or some accents to adorn your home or commercial building; we are the experts in heavy timber trusses and components.  Accent Truss is owned and operated by Jim Diffenderfer. Jim Diffenderfer, our head expert has over 30 years of experience in the construction and timber industries.
We've been serving clients throughout South Carolina and across the country with high quality, visually stunning timber frame products for many years. Incorporating the right kind of timber framing gives you an incredible amount of flexibility in your home or commercial design. Whether you are looking to build a small rustic cabin or a sprawling architectural wonder, you need the right frame to ensure durability and the aesthetic of your custom timber frame creation.
We use the most advanced timber framing software that allows us to model your project in 3-D.  This software allows us to build projects from the ground up before the first shovel of dirt is moved so that our clients have an exact representation of their final product. We work closely with our clients to inform them of the options of customizing their custom timber package. Everything from the species and texture of your timbers to the connection mechanisms all the way to the final design. We can change textures, timber species, and chamfer styles for those small but important details that will make your custom timber project spectacular.
We provide the best quality materials and craftmanship for your timber frame. This includes materials such as Douglas Fir, Western Red Cedar beams, Cypress, White Oak, and even some exotic species. Our timber framing is authentic with true mortise and tenon joinery held together with hardwood pegs. We have based our reputation on quality, value and excellent customer service.
It is a privilege to provide our customers, who are discerning builders, architects and homeowners, with the utmost in customer service and craftsmanship.  We take great pride in our work and are dedicated to making our customers dreams come to fruition.
Thank you for visiting our website! Please watch below to learn more about Accent Truss!
"Good people bring out the good in people."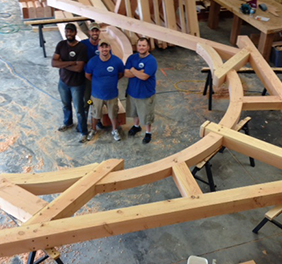 Employment Opportunities
We've seen steady growth since our beginning and we expect that growth to continue. A great team helps us maintain our high standards and make that growth happen; we have just that – a great team. We work hard to create a positive atmosphere for them while providing the "tools" they need to help them/us succeed. If you might be interested in joining our team when we next look to add to it we encourage you to get in touch with us. While we might not have an immediate opening we are always looking for quality candidates to consider so if you seem like a great fit we might just create that opening so don't be shy; contact us and send us your resume. Things we're looking for – great positive attitudes, team players, hard work-ethic, trustworthiness, reliability – all important to us whether you want an opportunity to work in our offices (design, estimating, marketing/sales, office management, scheduling) or to be part of the joinery process in the shop.